Gateways accepts international day students from Year 7 entry upwards. Due to it's central UK position, Gateways has excellent road and rail transport links to major international airports such as Manchester airport, just over an hour from school by car or direct train.
Why Gateways?
Gateways is in the top 10 of all schools in the UK every year for Value Added (CEM Centre)
Gateways pupils achieve outstanding results – in 2020, GCSE candidates achieved 70% of Grades 7-9 (the national average is just 27%) and 79% of A Level candidates achieved A* or A grades.
100% of Gateways A Level pupils gained places at their first of second choice university.
University destinations include Durham, Northumbria, Imperial College, Warwick University, Bath University, Edinburgh University, Loughborough and UCL.
Life at Gateways
Gateways has a unique offering for international pupils who are invited to attend the school as day pupils, living locally with a host family. Advantages of this model include:
Quicker integration into UK life
Enhanced rate of improvement in spoken English
An authentic British experience
Students are encouraged and invited to take part in school trips and residential visits to London and Edinburgh to improve their understanding of British language and culture
What we offer
Pre-GCSE & GCSE
Pupils taking the pre-GCSE course will be offered experience of subjects studied in UK schools. They will start to develop English skills, vocabulary and the work ethic vital for students studying the core subjects of biology, chemistry, physics, maths and English. After one year they will start a full GCSE programme which will include all of the core subjects as well as others for which they have aptitude, for example music, art & design or a modern foreign language.
Pre-A Level
The Pre-A Level course gives pupils a chance to immerse themselves in the life of the school and gain a valuable year of building up English language skills before embarking upon their A Levels. Students are invited to attend a range of Year 11 and Year 12 lessons with additional tailored English support.
A Level
Students will complete the two year A Level course, for their chosen subjects, as well as continuing with additional support in English. In English Studies lessons students will be supported to work towards their IELTS qualification however the study support is still tailored to the individual and their subjects at school. Our Careers Advisor and Head of Sixth Form will both help the girls to choose the right university and course to suit them, and tutors will help with the application process.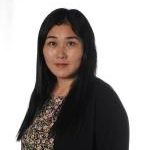 – Mrs May Day, Coordinator of International Students –