Fantastic
GCSE results achiev
ed yet again at Gateways
Gateways pupils, parents and staff are celebrating after once again, achieving remarkable GCSE results with 100% pass rate.  98% of all grades were awarded at grade 5 and above, 70% were awarded at grade 7 and above and 49% of all grades were awarded at grade 8 or 9.
Three of our GCSE pupils, Talia Murray, Almira Sohail and Jess Tully, performed exceptionally well and achieved a clean sweep of all grade 9s!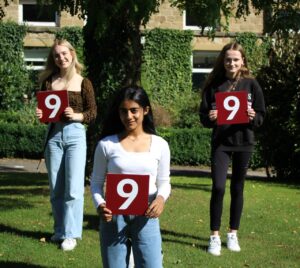 Not only did pupils achieve remarkable results in English and Maths, but 100% of grades awarded in Chemistry, Design, Classics, Computer Science, Further Maths, Geography, History, Latin, P.E, Textiles and Photography were at grade 7 and above.
Gateways School are the ranked #1 in the UK for Value Added in GCSE in Science, Maths, Computer Science, Latin and PE.
Headmistress, Dr Tracy Johnson commented,
In what has been a very difficult year for everyone, it has been a pleasure to guide this hard working group of students through to realise these successful outcomes.  They carried on working hard throughout lockdown and this enabled their teachers to evidence progress made since early mock exams taken last November and to submit appropriate Centre Assessed Grades for them.  Their hard work also allowed courses to be properly finished and this will have prepared them much better for their next level of study than if they had simply stopped working.  The results achieved today are as a result of a collective effort between the pupils, their teachers and their parents – a partnership that we pride ourselves on at Gateways just as much as we do our small class sizes.